Veterinary Pharmacy in Orchard Park Offers the Highest Quality Pet Meds
Orchard Park Veterinary Medical Center maintains a complete and extensive pharmacy of veterinary medications and pet products for your convenience. We carefully select the products we sell, for the health and safety of your companion animals.
Safe Pet Meds
Our pharmaceuticals are ordered from proper, legal sources and are created, stored, shipped, and labeled as the manufacturer and the FDA intended. Since all our pharmaceuticals are received in this manner, the manufacturers stand behind them for quality and efficacy. We do not buy from diverted or otherwise illegal sources. Many of the pharmaceuticals we carry are the same as the local pharmacy that provides your family with their prescriptions.
Well Stocked for Your Convenience
Our on-site pharmacy maintains a complete stock of medications in pill, capsule, liquid, oral, or topical form. We carry a variety of prescription flea products, prescription foods from several sources, pediatric formulas, behavioral aides, and avian/reptile supplements. Of course, we will special order medications to meet our patients' needs. The veterinarians routinely review our stock, adding newly available and improved medications as they come on the scene.
The OPVMC pharmacy exists as a convenience to OPVMC clients and doctors. Clients have the ability to purchase any of their pets' prescription needs directly from us, on-site, saving a trip to another pharmacy. This also includes all of the prescription pet foods. Please note, however, that all pet food available through OPVMC is by prescription only.
Online Prescription Refills
For all prescription food and medication refills, we request a minimum 24-hour advance notice. This period allows us to have your prescription ready, so you aren't inconvenienced with a long wait. It also allows us to call you if we have questions or a product is out of stock.
To order a refill:
Call us at (716) 662-6660; press 6 for medication refills
Dial the Refill Hotline directly at the number on your pet's medication label; or
Make an online refill request and receive a reply email to confirm your order.
Refills may be ordered at any time, 24/7, 365 days a year via the instructions above. We ask that you pick up your medications and food by midnight. While we are open 24/7, if you arrive to pick these items up during emergency clinic hours, such as overnight, you may end up waiting while we tend to emergencies.
Click the Online prescription button below to create an account, request/refill prescription medications and prescription food, which will be delivered directly to your door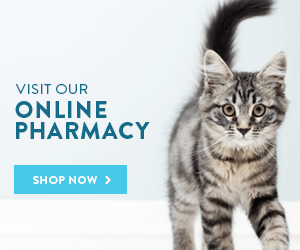 Purchasing Your Prescriptions Elsewhere
Written prescriptions are available to those clients who wish to purchase pharmacy products from other sources. If you are considering purchasing your pet's prescription drugs online, you may want to read this advice from the Food and Drug Administration (FDA)